20 Most Promising WI-FI Solution Providers- 2018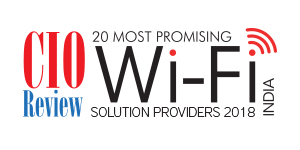 Connectivity plays a key role in running a business in a competitive environment. Most companies outsource their IT management to solution providers so that the in-house IT team does not have to cater to stress-related work like network downtime and the continuous demand for accessibility from the users. A fully managed Wi-Fi solution facilitates clients with quick, easily accessible and secure wireless connectivity across the whole organization on a adjustable subscription-based payment model. In essence, a managed Wi-Fi solution offers increased productivity, optimized security over the internal network, better scalability as the business continues to grow, improved user experience and immediate technical support, all at an economical cost. One can also achieve complete transparency with in-depth monitoring and reporting as well. Aware of the plethora of benefits that can be availed, businesses are on the lookout to outsource their WLAN design, installation, and management to a fully capable and professional technology partner.
While there may be a host of vendors providing Wi-Fi solutions in the market, not all the vendors possess the right skill-set and technologies to deliver innovative and robust Wi-Fi solutions that meet every client's specific requirements. Coming to the aid is CIOReview with a list of "20 Most Promising Wi-Fi Solution Providers". Various businesses can refer to this list for the best-in-class technology solution providers that display the desired expertise and deep domain knowledge that will assist organizations in achieving their Wi-Fi requirements with impeccable customer satisfaction. A renowned advisory group of CEOs, CIOs, industry analysts, and the CIOReview editorial team have diligently worked towards putting together this list.
We present to you CIOTechOutlook 20 Most Promising WI-FI Solution Providers- 2018.
Top WIFI Solution Providers
| Company Name | Company Description |
| --- | --- |
| DIGISOL Systems | Provider of computer networking products in the domain of converged communications |
| | |
| --- | --- |
| Aerohive Networks | A provider of cloud-enabled networking, switching and routing, and Wi-FI solutions |
| Airlabs | Provider of secure and customizable IoT and Wi-Fi solutions for enterprises |
| ASSIA | A provider of broadband solutions and services |
| Cambium Networks | Provider of business Wi-Fi, fixed wireless broadband point-to-point (PTP) and pointto-multipoint (PMP) platforms |
| Convergent Wireless Communications | Providing enterprises across verticals such as education, hospitality, healthcare, mining and logistics and manufacturing with secure wireless network solutions |
| Everest Networks | A provider of high-density Wi-Fi solutions |
| Extreme Networks | A provider of enterprise networking solutions for enterprises. |
| FireFly Networks | Focused on creating, and managing world-class Wi-Fi Hotspots |
| Fon Wireless | A provider of wi-fi solutions for enterprises and operators |
| JNS Systech | Provider of a comprehensive suite of Networking and Data Center solutions |
| Maipu Communication Technology | Developer of data communication equipment |
| Mojo Networks | A provider of self-driving Wi-Fi solutions |
| Pronto Networks | A provider of carrier-class operations support systems (OSS) for network operators |
| Ruckus Networks | A provider of wired and wireless networking equipment and software solutions |
| ScreenBeam | A provider of wireless displays for Windows, Android and MacOS |
| SmartAd Solutions and Services | Provider of end-to-end Smart Wi-Fi Advertising Solution |
| TechCorner Solutions | Provider for fibre optic installations, local area and wide area networks |
| Wifyee | Provider of Wifi Hotspots tailored to meet the needs of every market segment |
| XiFi Networks | Provider of wireless technology, product and solutions to aid in large-scale deployments of WiFi hotspots |