10 Most Promising Wi-Fi Solutions Providers - 2019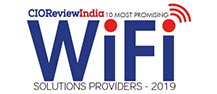 The Wi-Fi market is expected to grow from USD 5.96 billion in 2017 to USD 15.60 billion by 2022, at a CAGR of 21.2 per cent. Emergence of IT, increase in implementation of BYOD in organizations and growing demand for wireless and smart devices are the prime factors driving this market growth. Other factors include the invention of smart devices that require high speed internet connectivity, reduction in the overall network cost of enterprises owing to hassle-free maintenance and easy accessibility features.
Moreover, the development of various WiFi enabled devices in the market has increased consumers' demand, resulting in the increased sale of smart home and work devices. The major advantage of organizations using Wi-Fi is that it makes it easy for smart devices to integrate and interconnect easily without much hassle, which ultimately reduces the network wiring cost and provides mobility to users over traditional wired networks. Countries such as the US, Japan and Germany have witnessed large-scale deployments of smart home security devices that need to connect with other devices through either homogeneous networks or heterogeneous networks. With all these requirements and necessities, the Wi-Fi market has become a highly competitive market with multiple vendors emerging day by day.
And by the looks of it, we understand that enterprises are on a constant lookout for Wi-Fi solution providers who can keep them in pace with the changing norms. CIOReviewIndia presents a list of "10 Most Promising Wi-Fi Solution Providers - 2019". Being closely scrutinized by a distinct panel of judges including CEOs, CIOs, CXO, analysts and CIOReviewIndia editorial board, we believe these solution vendors will help in transforming business processes through their significant offerings.
We present to you CIOTechOutlook 10 Most Promising Wi-Fi Solutions Providers - 2019.
Top WiFi Solutions Providers
| Company Name | Company Description |
| --- | --- |
| EION Wireless | Delivers powerful, cost-effective solutions for IoT devices, Outdoor WiFi, Indoor WiFi, Tunnel WiFi and Street WiFi. |
| | |
| --- | --- |
| Cellcomm | Offers turnkey solutions across coverage and IoT from conceptualization to consultancy, design to deployment, O&M to technology upgrading. |
| D-Link | Designs and manufactures advanced networking, broadband, digital, voice and data communications solutions. |
| FireFly Networks | Creates, manages and monetizes Wi-Fi hotspots by providing Wireless infrastructure to partners like educational institutes, hospitals, malls, cafes, and markets. |
| Inventum | Develops products and technologies for fixed and wireless data networks. |
| Levotel Data System | Provides secure wired and wireless Internet services, to Hotels, Resorts, Motels & cafes, among others. |
| Maahee Technologies | Offers Information Technology solutions for medium and large size enterprises across corporate, hospitality, retailers, education, healthcare, to name a few. |
| Ruckus Networks | Provides a complete line of network access infrastructure which includes Wi-Fi controllers, indoor and outdoor access points, wired Ethernet switches, etc. |
| STL | Delivers various solutions from Access Solutions, Mobility Solutions, to Enterprise Solutions and Network Modernization solution. |
| wiSpot | Provides WiFi hotspot through various products across different industry verticals. |